Global Ageing: Low- and Middle-income Country Challenges

June 13-17, 2022 (9th edition)

Applications closed
VIU Scientific Coordinator: Agar Brugiavini, Ca' Foscari University of Venice & Venice International University (VIU)
In 2022 the Summer Institute on Ageing will reach its 9th edition. The Summer Institute provides students and early-career researchers with a multidisciplinary and rigorous understanding of the ageing process, ranging from some basic notions of the medical and epidemiological literature, to key concepts in the economics and sociology of ageing.
A special focus is the use of large micro-data sets from the international family of health and retirement studies (SHARE, HRS, ELSA, CHARLS, MHAS, etc.).
Organising Committee: Agar Brugiavini, Stefania Maggi, Jürgen Maurer, Giacomo Pasini, Guglielmo Weber.
Contributing member universities:
- Ca' Foscari University of Venice
- National Research Council of Italy
- University of Lausanne
- University of Padua
The following scientists and researchers will contribute to the 2022 Summer Institute on Ageing:
Mauricio Avendano, University of Lausanne & Harvard University, CH
Lisa Berkman, Harvard T.H. Chan School of Public Health, USA
Axel Boersch-Supan, Max Planck Institute for Social Law and Social Policy, DE
Agar Brugiavini, Ca' Foscari University of Venice & Venice International University, IT
Luigi Ferrucci, National Institute on Ageing, USA
John Giles, World Bank Group, USA
Mickael Hiligsmann, Maastricht University, NL
Arie Kapteyn, University of Southern California, USA
Hans-Peter Kohler, University of Pennsylvania, USA
Jinkook Lee, University of Southern California, USA
Stefania Maggi, Institute of Neuroscience, National Research Council of Italy, IT
Jürgen Maurer, University of Lausanne, CH
Owen O'Donnell, Erasmus University Rotterdam, NL
Giacomo Pasini, Ca' Foscari University of Venice, IT
Ritu Sadana, WHO, CH
Guglielmo Weber, University of Padua, IT
What are the main activities?
- Presentations of leading scholars from the fields of biomedicine, geriatrics, genetics, epidemiology, as well as economics, health economics, public health, psychology, demography and sociology;
- Hands-on sessions: presentation of the survey data on ageing available to the scientific community focusing on datasets such as SHARE;
- Poster sessions and other activities: discussing the participants' research with the senior scholars;
- Interactive sessions, such as "tutoring sessions", aimed at giving participants the opportunity to discuss their own research ideas with senior speakers in individual or small group meetings.
What's special about the Institute?
Attending the school means developing transversal competences because the approach is multidisciplinary, and those who have a specific economic or sociological background will know more about medical advances in ageing research, learning the specific language in which MDs deal with these issues as well.
High-level policy makers or officials who may also take part in this programme will be able to learn how to connect issues between the health dimension of ageing and the economic dimension of ageing.
Learning Outcomes
Double learning outcomes: on one hand, participants will gain more insight into the recent advances of the ageing process from a theoretical and practical point of view, especially with regard to key ageing challenges in low- and middle-income countries (LMICs); on the other hand participants will take part into a "hands-on" session that will teach them how to use the data behind the research effort in this area. Hence participants will gain both subject-related competence in handling large data sets on ageing, which do contain relevant information on health conditions, but also economic conditions.
Who can apply?
Graduates, PhD students and post-doc scholars in economics, statistics, social sciences and medicine, but also professionals active in the field of ageing.
What's the relevance of the school?
Population ageing is a major global concern. Ageing processes are complex and involve several dimensions, from the health dimension to the socio-economic context. In order to achieve a better understanding of how to ensure healthy and successful ageing around the world, it is crucial to take account jointly of these different dimensions, and to develop health systems and welfare models that enhance the human development of ageing populations.
Future generations of researchers will have to address the challenge of ageing with a multidisciplinary background, both in their academic career and in operational activities, and policy making as well. This is true also for firms (and managers) which will have to adjust to an ageing work-force and to make the best of the skills that these workers will offer. It is clear that this research agenda has a huge impact on public finances, ranging from health care and long term care spending, to pensions and Social Security.
Bios of Lead Professors
Agar Brugiavini is full professor of Economics at Ca' Foscari University of Venice. She has investigated the behaviour of individuals and household both in the area of consumption and saving and in the area of labour supply. In particular, she is interested in the effects of pension reforms on household's saving decisions, in retirement choices and in the insurance aspects of pension arrangements. More recently she has looked at the relationship between health conditions and economic behaviour.
Stefania Maggi is Senior Researcher at the National Research Council of Italy, Aging Section-Institute of Neuroscience. She holds a Degree of Doctor in Medicine and Surgery at the School of Medicine, University of Padua, Italy, a Master in Public Health - Department of Epidemiology, The Johns Hopkins University School of Hygiene and Public Health, Baltimore, Maryland, and a PhD in Pathophysiology School of Medicine, University of Padua, Italy. She is author of about 170 publications in peer-reviewed national and international journals.
Jürgen Maurer is Director of the Institute of Economics and Management of Healthcare at the University of Lausanne. He holds a Ph.D. in Economics from the European University Institute in Florence, Italy. He is a fellow of the Center for Economics and Social Research (CESR) at the University of Southern California in Los Angeles, a senior fellow of the Munich Center for the Economics of Aging (MEA), an external affiliate of the Health, Econometrics and Data Group (HEDG) of the Centre for Health Economics at the University of York in the UK, an adjunct economist at the RAND Corporation and an adjunct lecturer at the Institute for Global Health of the University of Geneva. His research work mainly focuses on aging, health disparities and public health.
Giacomo Pasini is Associate Professor at Ca' Foscari University of Venice, Department of Economics, affiliated to Netspar, director of the PhD in Economics at Ca' Foscari University of Venice and Rector's delegate for Cooperation and development. His research interest mainly focus on Health and Ageing Economics; Labor Economics; Household Finance.
Guglielmo Weber is full professor of Econometrics at University of Padua. He is also International Research Associate at the IFS (London), Research Fellow at the CEPR (London), Italian Country Team Leader for SHARE and deputy managing director of SHARE-ERIC. His research interests mainly focus on consumption, savings and the economics of ageing.
Credits
A Certificate of attendance will be issued at the end of the course.
Number of ECTS equivalence: 2
Applications procedure and costs
The Program will admit from a minimum of 12 to a maximum of 30 participants.
Applicants must submit the application form, a brief research statement including candidate's interests, and a curriculum vitae with photo.
Admitted candidates will be notified by March 7, 2022 | Deadline extended until March 15, 2022.
Payment of the tuition fee by March 13, 2022 | Deadline extended until March 22, 2022.
Fees
Applicants from VIU member universities: € 200 incl.VAT
Other applicants: € 400 incl. VAT
2 full scholarships available for students coming from low-income countries; other scholarships may be available to cover part of the fee.

The fee will cover tuition, teaching materials, lunches in the VIU cafeteria and social events.
Student participants will be responsible for covering their own travel expenses to and from Venice, local transportation, and evening meals.
Accommodation costs on campus
Venice International University offers its support to book accommodation on San Servolo Campus, in multiple rooms with other participants for the duration of the Summer School.
This event is supported by the Swiss Agency for Development and Cooperation (SDC) and the Swiss National Science Foundation through the Swiss Programme for Research on Global Issues for Development (r4d programmed) by the grant "Inclusive social protection for chronic health problems" (Grant number: 400640_160374 PI: Jürgen Maurer). For further details on the initiatives see: http://www.r4d.ch and https://r4d-ncd.org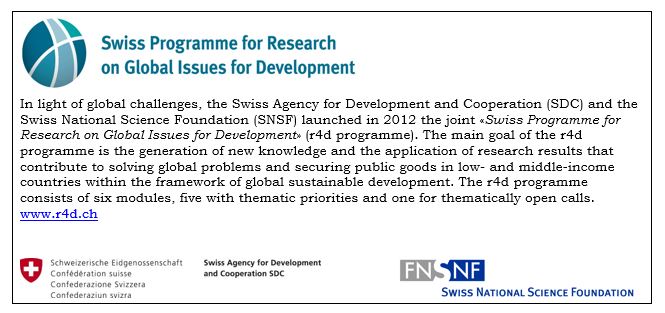 The event is co-financed by the European Union's Horizon 2020 project "SHARE-COHESION"(Grant number: 870628).


---
As the COVID-19 pandemic is ongoing, VIU will continue to monitor the situation; should it prevent international travel or the confirmation of the program on campus as scheduled, other practicable solutions will be evaluated. Applicants and confirmed participants will be informed of any changes.

Contact and info:
Francesca Scattolin
Tel: (+39) 041 2719511
Email: ageing@univiu.org