This semester's weekly meetings program, usually called Tea2B, will move to a different day and time in the week, also changing its name: this semester's version will be in fact called Lunch2B, hoping that all the VIU community spread around the world during these difficult times can join us anyway online around 12.00 PM (Rome time). The Lunch2B will be an opportunity for professors and students to discuss several topics in a friendly environment.
For more updates, check out the VIU Community website!
Lunch2B n°8 | THE GLOBAL ATTITUDES TO LGBT+ RIGHTS
April 23, 2021 | 12:00 pm (CEST) | on ZOOM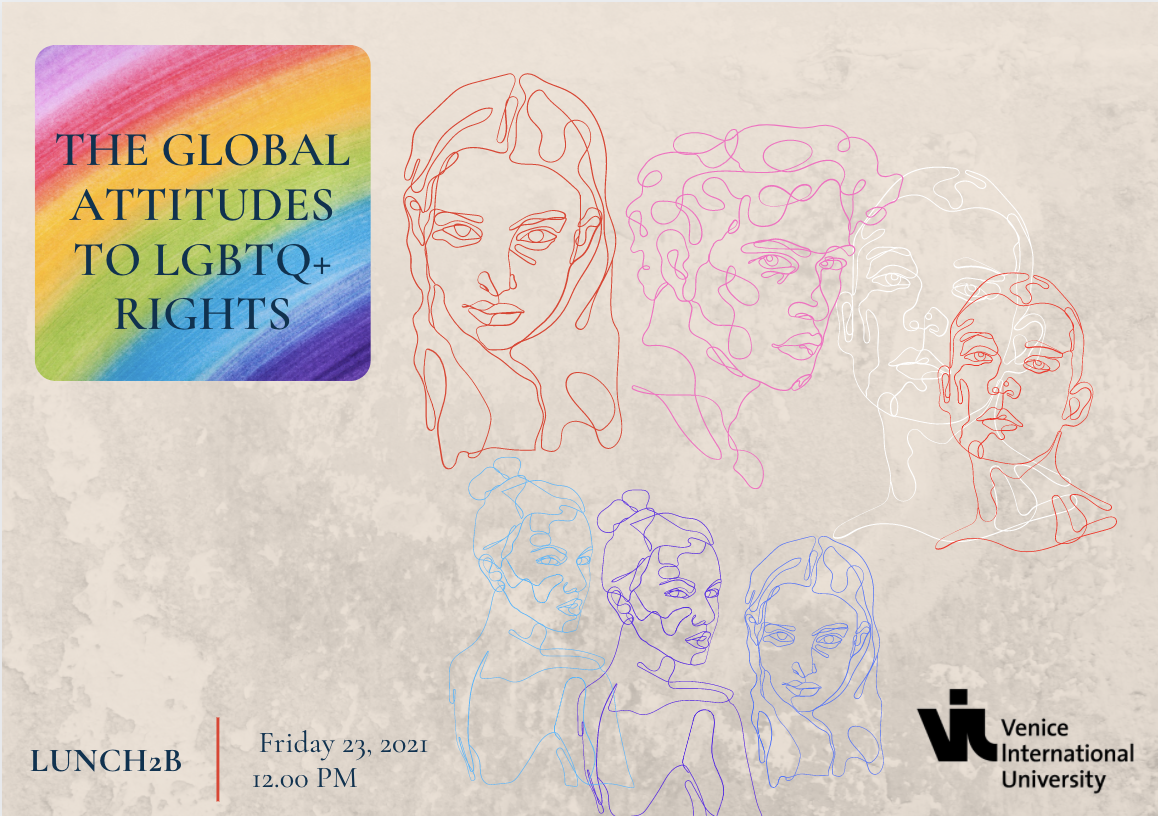 In many countries, being lesbian, gay, bisexual, transgender or intersex (LGBTI) means living with daily discrimination. While the denial of human rights for LGBT persons persists throughout the world today, over 30 countries have decriminalized homosexuality in the past 20 years. While history, culture and religion are contextually important, all States, regardless of their political, economic and cultural systems, according to international law have a duty to promote and protect the human rights of all. How does this approach differ within the international scene?
Lunch2B n°7 | REPOPULATING VENICE: CHALLENGES AND OPPORTUNITIES OF THE HOUSING CRISIS
April 16, 2021 | 12:00 pm (CET) | on
ZOOM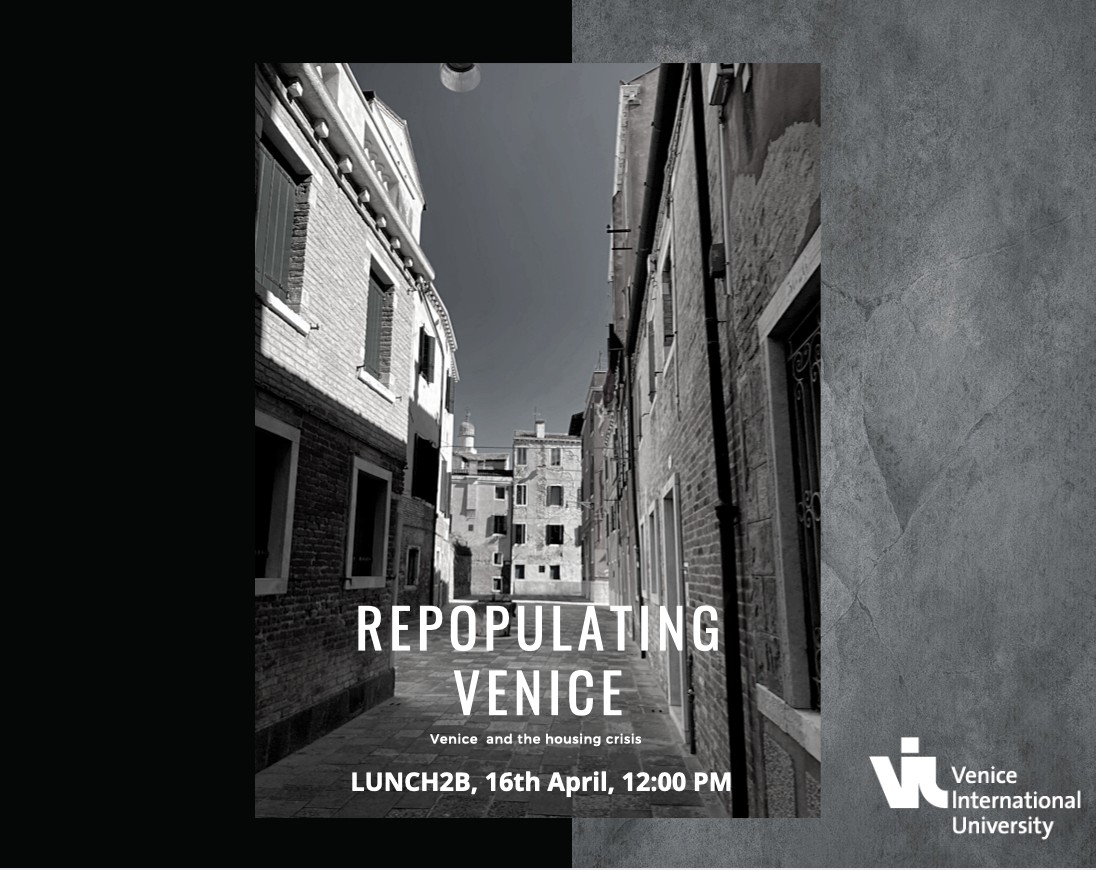 When we talk about repopulating Venice, are we talking about a mix of activities and class of people that characterized the city 50 years ago, or are we talking about how it can be transformed?
How to save Venice is hardly a new question. But with the COVID-19 pandemic — along with the chance to move through quiet canals, to hear Venetian dialect in the air and to gaze, unobstructed, upon works by Renaissance masters Tintoretto or Titian — these essential questions have been laid bare as never before. Real transformation never comes with a shock but with a plan. Do we have one? Join us for a Lunch2B discussion about repopulating Venice this Friday!
Lunch2B n°6 | A RESILIENT ENVIRONMENTAL SYSTEM
April 2, 2021 | 12:00 pm (CET) | on
ZOOM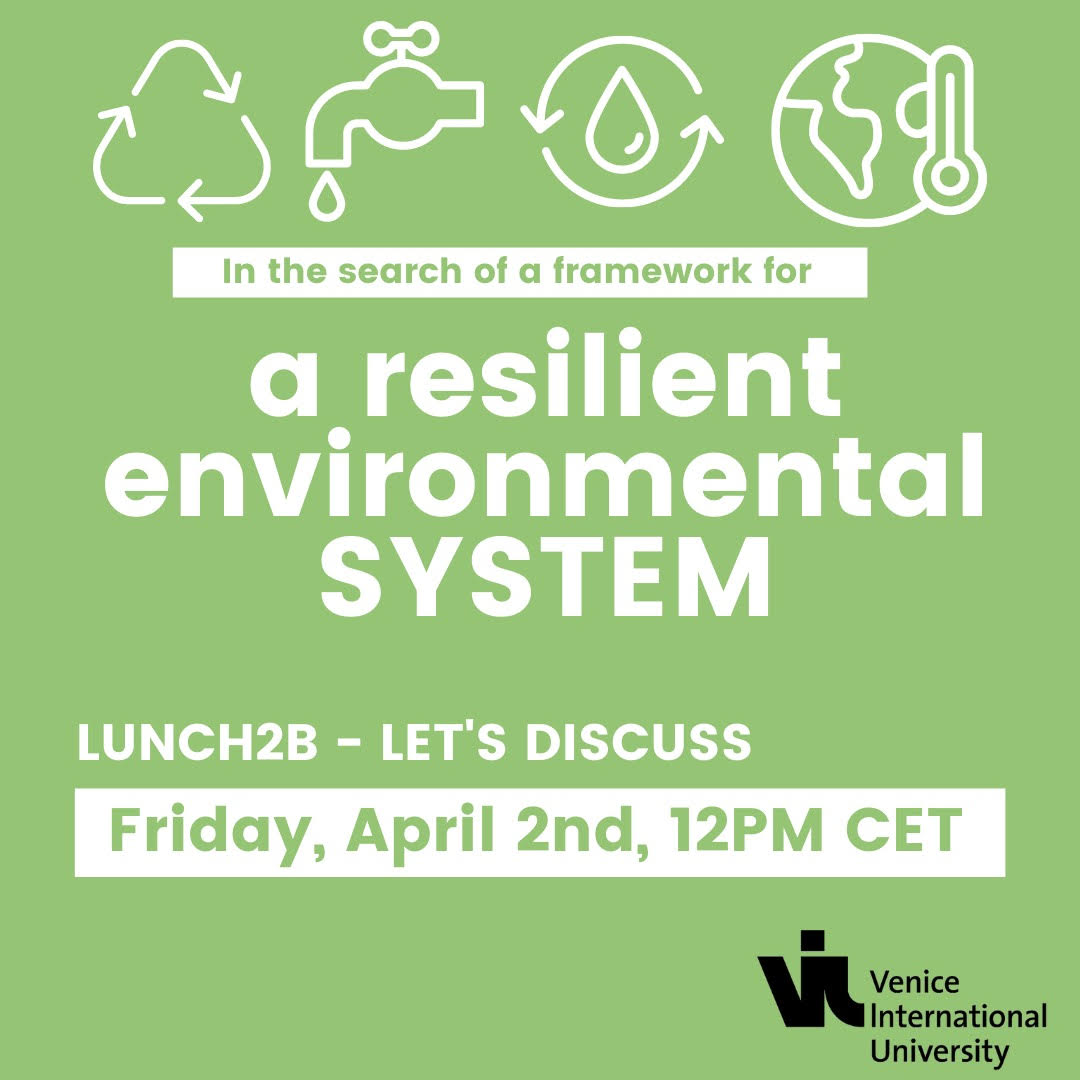 COVID 19 has increased the environmental awareness towards contemporary challenges: preservation of ecosystems, waste and pollution generations and hazardous emissions for biodiversity. Economy is one of the central focus to change our consumption patterns, creating a sustainable society where nature and the economy can cooperate. That is to say that the post pandemic framework should move towards a more resilient and greener economy with net zero carbon emissions in future. Every country in the world has its own pathways, limitations to follow in order to implement the green new deal under these unprecedented times. Our choices have different impacts on the environment and sometimes it is not as easy as it seems.
What can we, common people, do to achieve such a world? What is our personal experience of the situation right now?
Let's discuss!
Lunch2B n°5 | FREEDOM OF SPEECH
March 26, 2021 | 12:00 pm (CET) | on ZOOM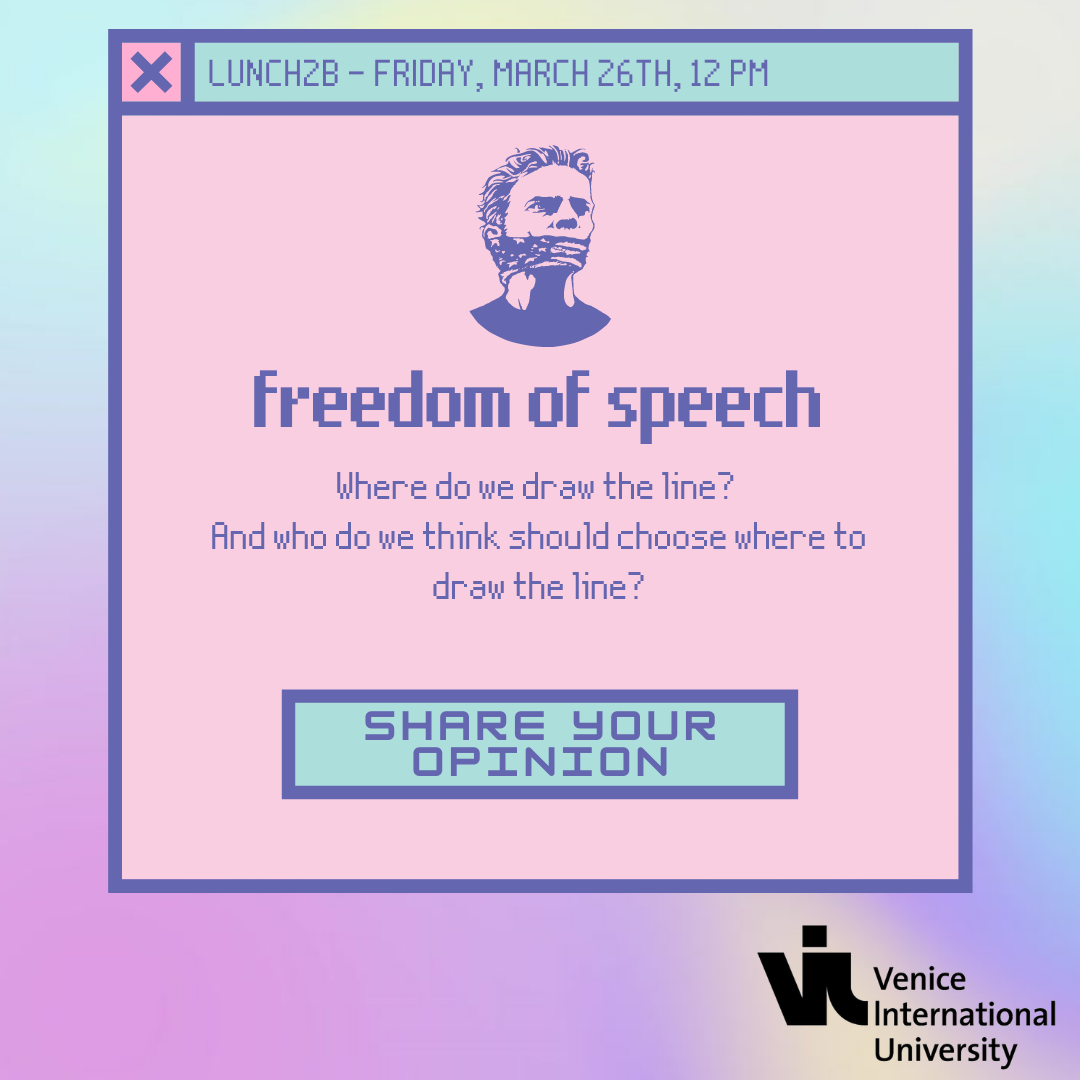 This week we will have an exciting surprise guest who will introduce us to this topic!
We understand freedom of speech to be a fundamental pillar in liberal democracy. Equally, it is recognized by many that when it comes to hate speech, obscenities, etc., there should be some restrictions. Where do we draw the line?
In response to the Black Lives Matter movement statues were torn down and defaced across the world. For example Edward Colston in Bristol (England), King Leopold II in Belgium, and Indro Montanelli in Milan (Italy), etc. Does tearing these statues down represent a new iconic moment in our history? Or the erasure of it? What role does freedom of speech and censorship play in countries which place restrictions on their citizens such as censorship, monitoring, and surveillance of the internet? Let's discuss!
Lunch2B n°4 | ARTIFICIAL INTELLIGENCE AND ETHICS
March 19, 2021 | 12:00 pm (CET) | on ZOOM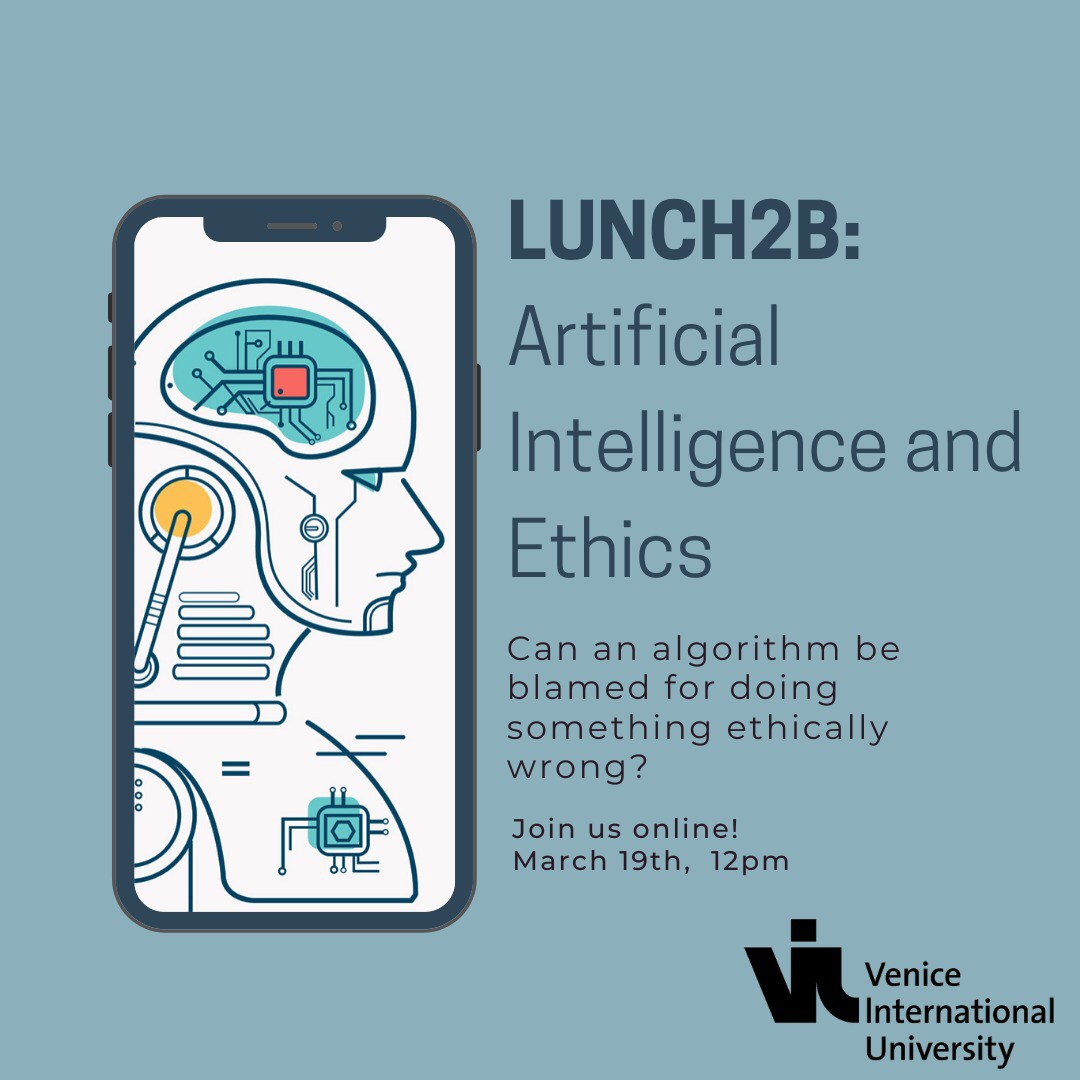 Machine learning algorithms learn from the training data they are given, regardless of any incorrect assumptions in the data. In this way, these algorithms can reflect, or even magnify, the biases that are present in the data provided by the people constructing algorithms. For example, if an algorithm is trained on data that is racist or sexist in any respect, the resulting predictions will also reflect this. Some existing algorithms have mislabeled black people as "gorillas" or charged Asian Americans higher prices for school tutoring.
Algorithms are already being used to determine credit-worthiness and hiring, and they may not pass the disparate impact test which is traditionally used to determine discriminatory practices. How can we make sure algorithms are fair, especially when they are privately owned by corporations (for example Amazon HR scandal!), and not accessible to public scrutiny? How can we balance openness and intellectual property? We want to hear your opinions and thoughts.
Lunch2B n°3 | WHAT IS ART?
March 12, 2021 | 12:00 pm (CET) | on ZOOM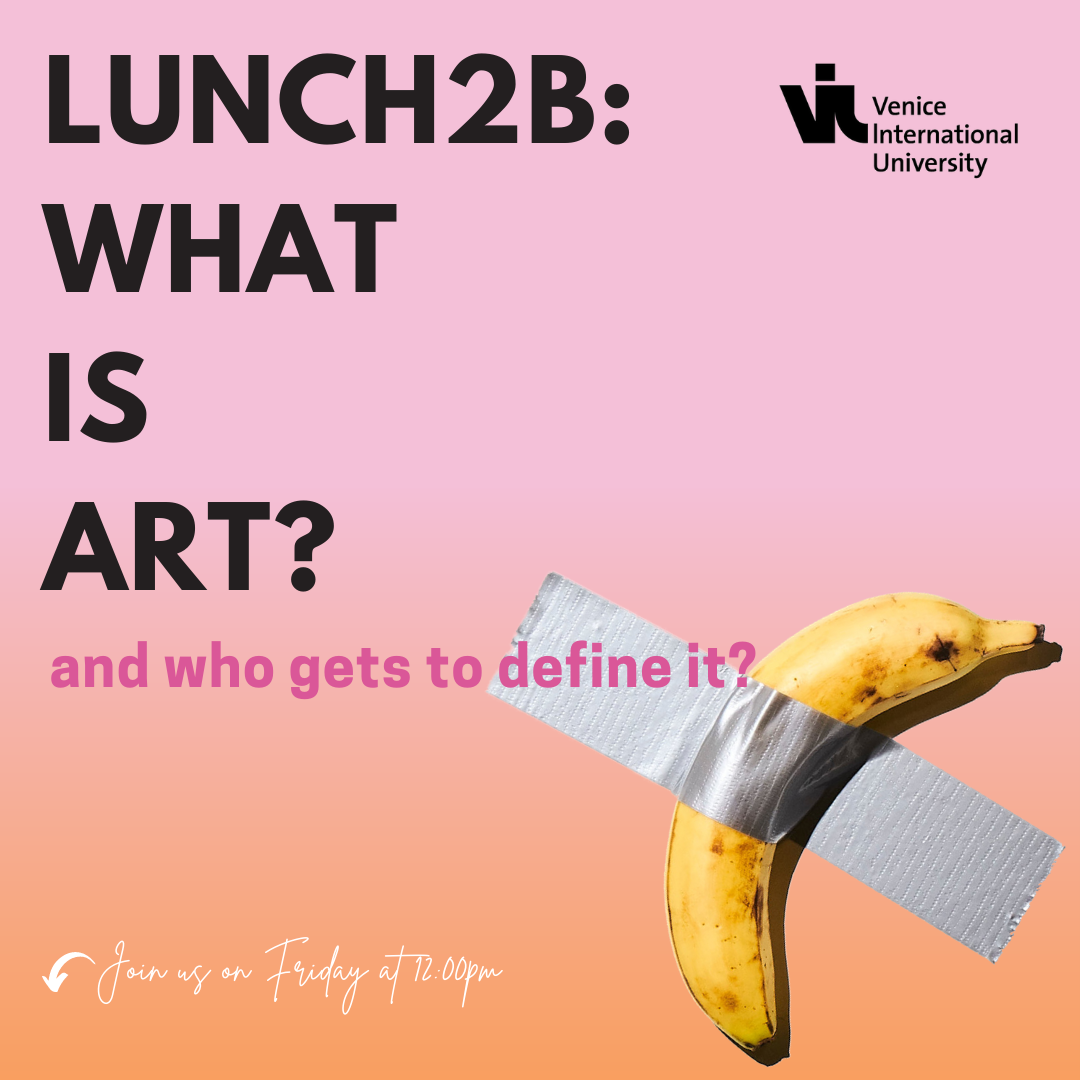 In this week's Lunch2B every member of the meeting will share a piece of art being important, it can be a painting, a sculpture but also something out of the ordinary. Art needs to let people express what they feel in every occasion of their life. At the very beginning, ancient artists could find their "muse" in heroes, religion and nature and then they focused on society and how people reacted to historical events. The Dadaist movement and contemporary art changed the rules of the game. Every traditional concept of what should be artistic and worth being exposed at an exhibition took a complete different perspective.

What do you consider art? What is widely acknowledged to be artistic? Join the discussion around these questions and more.
Lunch2B n°2 | INEQUALITIES IN ACADEMIA
March 05, 2021 | 12:00 pm (CET) | On ZOOM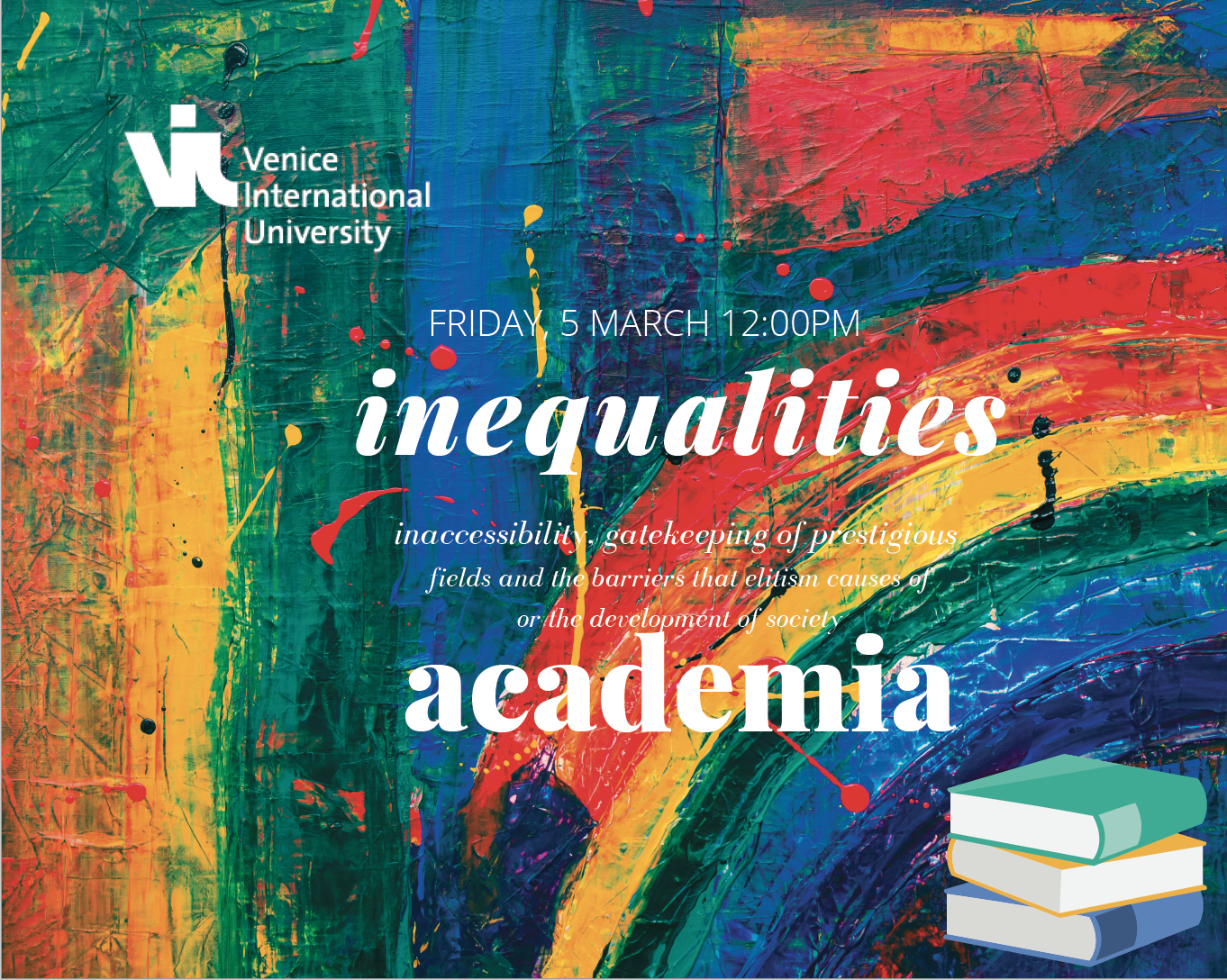 In this week's
Lunch2B
we will be talking about academic elitism. University gives us the opportunity to pursue a job by providing a service. A transaction occurs in which students pay for their education (in many countries) and in return receive a shiny diploma which works as a key to open doors.
But what about students whose parents didn't go to university? Who can't afford to pay for private tutoring? Indeed, many universities are associated with feeder schools - often private institutions charging exorbitant fees. Then when these students graduate, they apply for jobs at feeder corporations who only hire from the pool of 'elite' universities. Other degrees from 'less prestigious' universities are considered devalued by many.
What is academic snobbery? Is the world of academia disconnected from the 'real world'? Is academia gate-kept by those with positions in the ivory tower? What role do prestigious universities play in perpetuating and continuing inequalities? Further, what does elitism mean in your country? Let's chat about all these questions and more!
Lunch2B n°1 | BE THE ACTOR. NOT THE AUDIENCE
February 24, 2021 | 12:30 PM | On ZOOM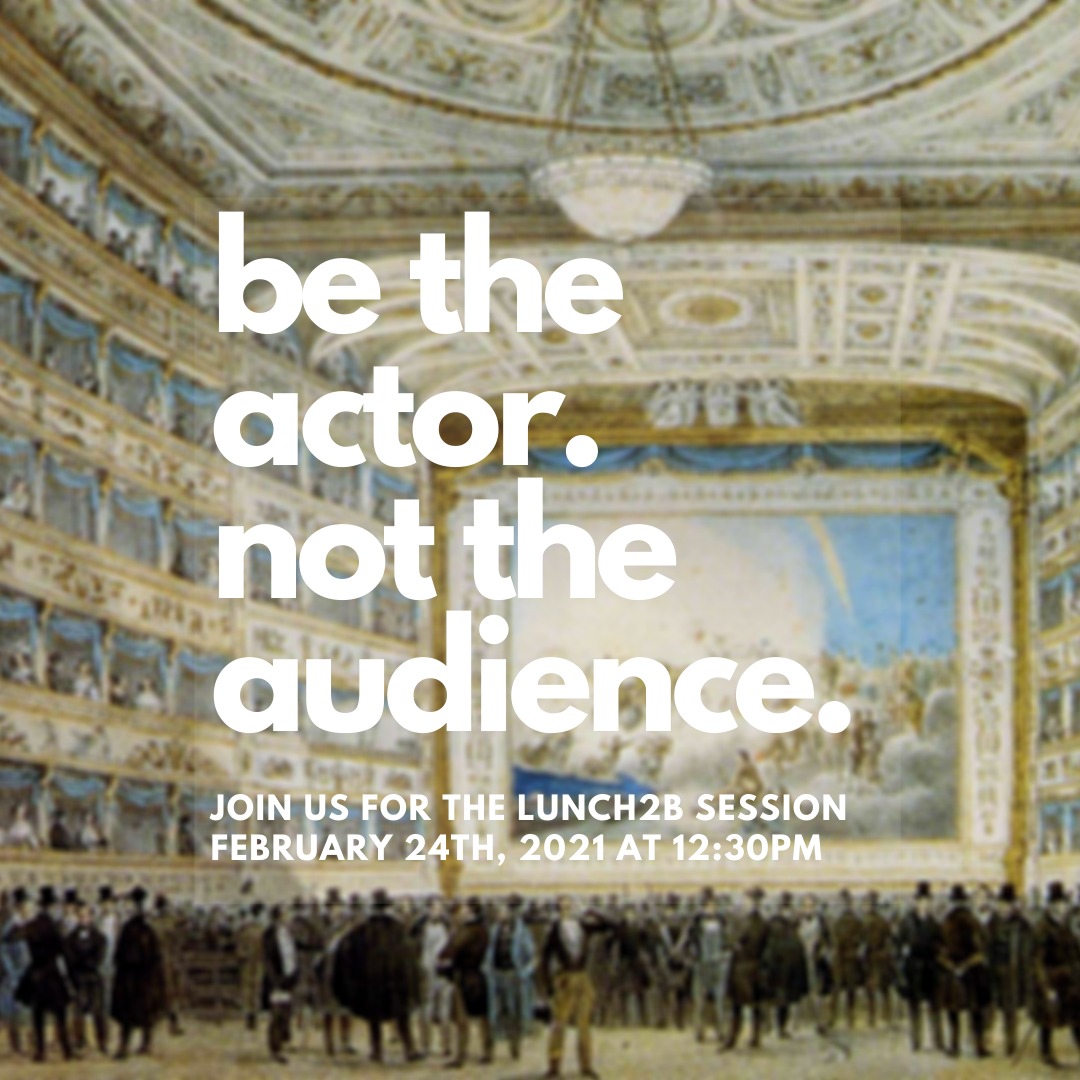 Meeting about students-professors social and cultural activities to foster informal multicultural and multidisciplinary experiences at VIU. Everybody is more than welcome to join the discussion.
Here are the past editions of the Tea2B:
Tea2B - 1st semester 2020-2021