The weekly meetings program, Tea2B, returns on Monday afternoon at 5 pm, in Baden-Powell courtyard (next to the bar).
The Tea2B will be an opportunity for professors and students to discuss several topics in a friendly environment.
Tea2B n°11 | CHRISTMAS
Monday, November 29, 2021 | 4.45 pm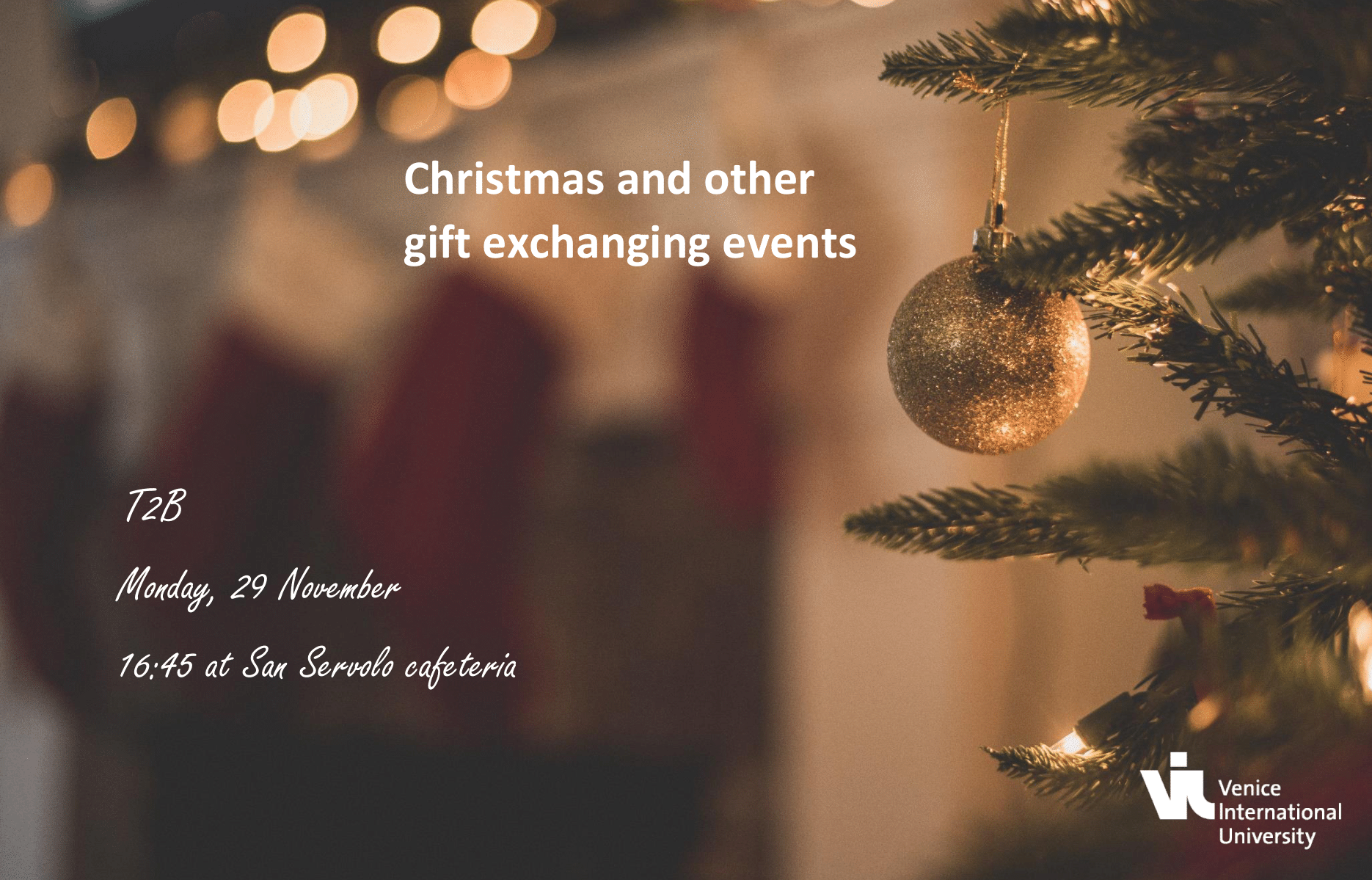 Next week the Tea2B will consist in informal conversations about Christmas and other occasions in which gifts are exchanged.
Students and professors are invited and welcome to join in.
Tea2B n°10 | GHOST STORY WALK
Tuesday, November 23, 2021 | 7 pm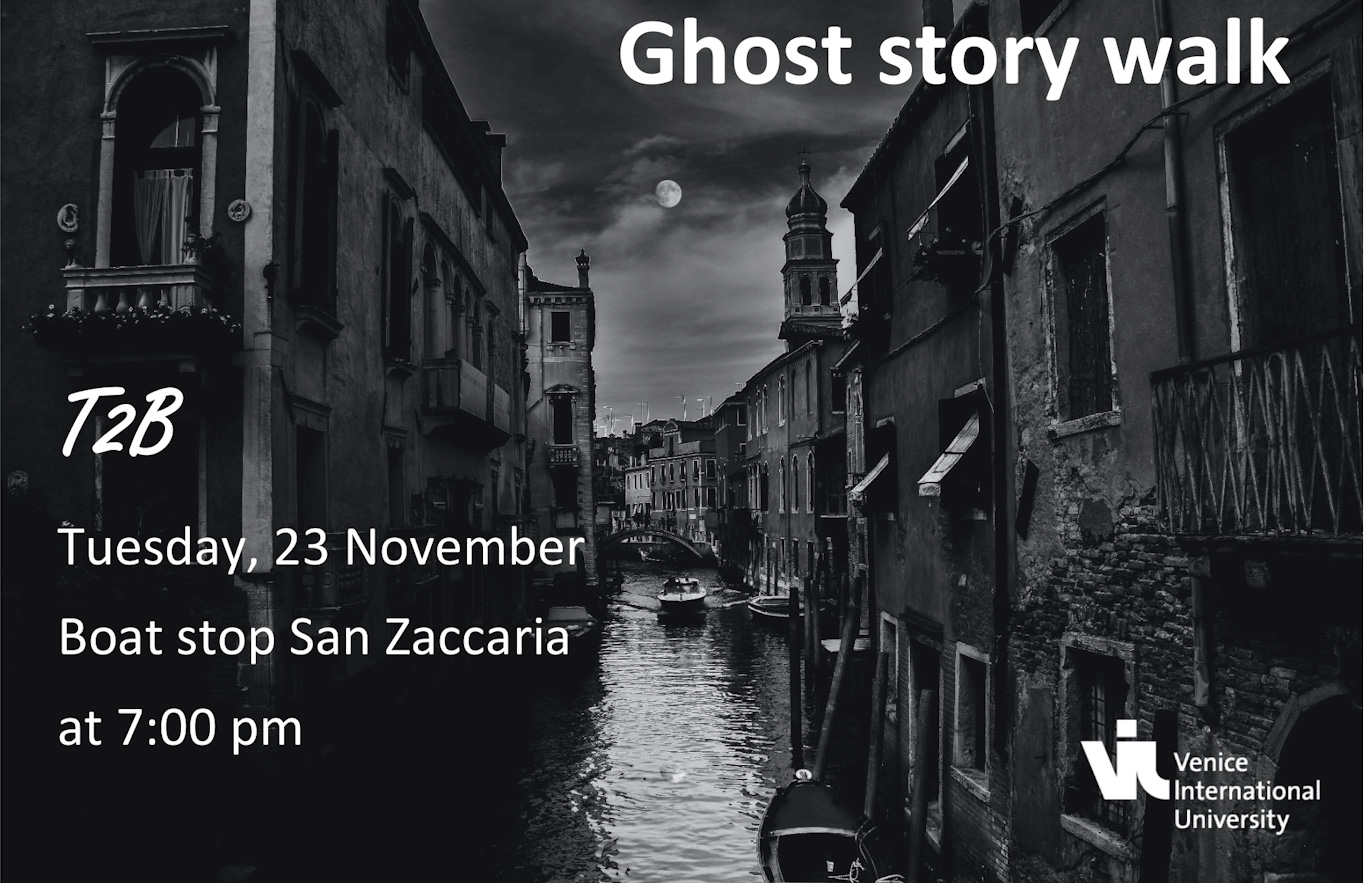 Time to get spooky! Our lovely Esther will guide us around and show us the spookiest corners of Venice. We will dive into the mysterious Venice; hear stories of ghosts and unsolved secrets.
Have you ever heard of the Butcher of Santa Croce? In the 15th century, his soup with meat was very famous and popular. Until they found a little finger. When investigations were made, it became known that he killed children to make his soup particularly tasty. He was beheaded for his crimes in St. Mark´s Square and the shop and his house were both torn down.
T2B is on Tuesday 23 November. We meet at San Zaccaria boat stop at 7 pm.
The walk will take one hour.
Tea2B n°9 | FUNERAL RITUALS IN DIFFERENT CULTURES
Monday, November 15, 2021 | 4.45 pm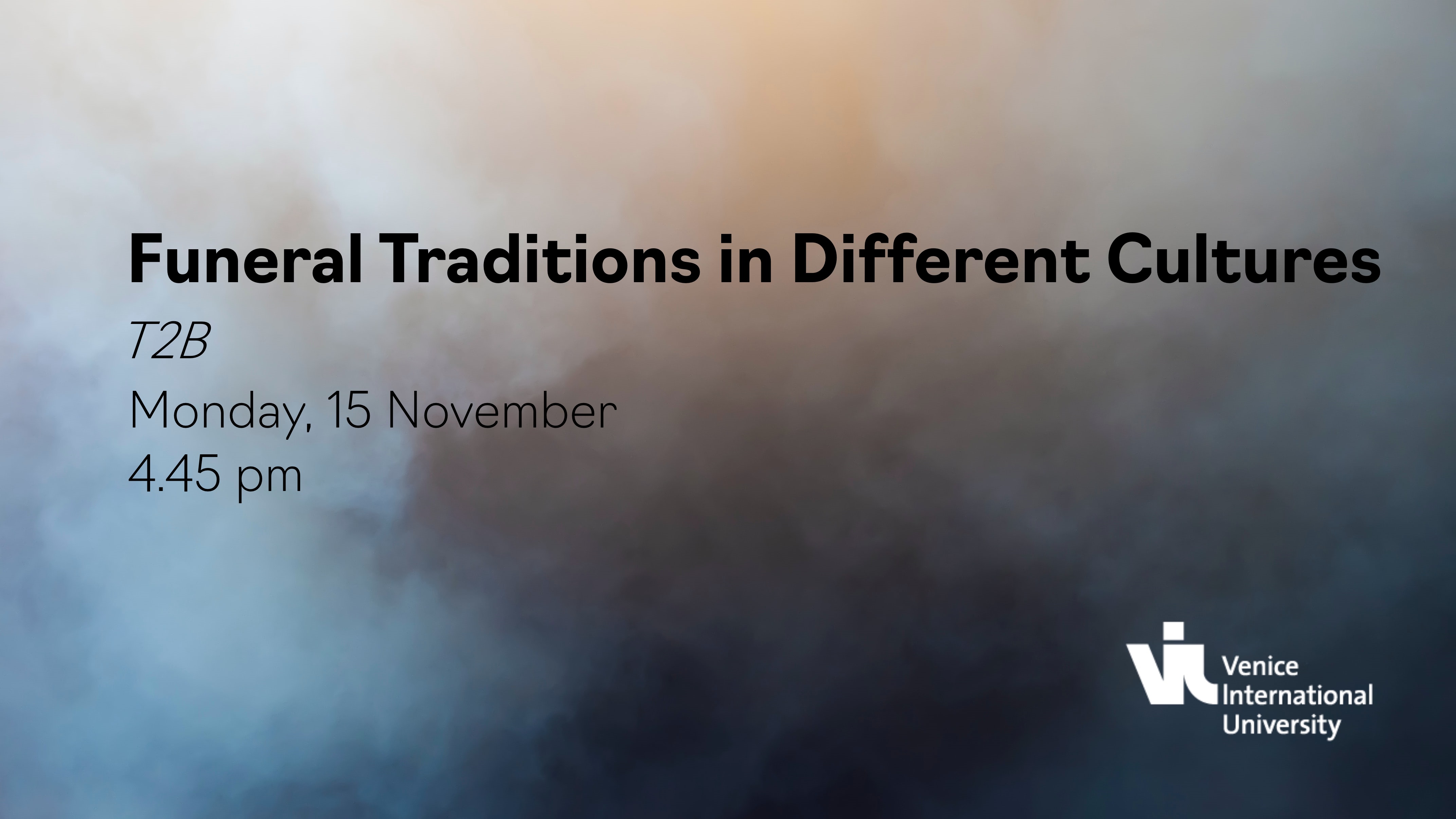 Different cultures practice many separate, varied, and equally graceful traditions when someone passes away. Funeral rituals are deeply ingrained in culture and reflect a wide spread of beliefs and values.
Let's explore funeral traditions all around the world and discuss attitude towards death and dying in your country.
Also, Julia Safronova, Professor of Memory Studies at EUSP has been invited to contribute to the discussion.
We welcome all the Students and Professors to participate.
Tea2B n°8 | LIVING IN ISRAEL
Wednesday, November 10, 2021 | 5 pm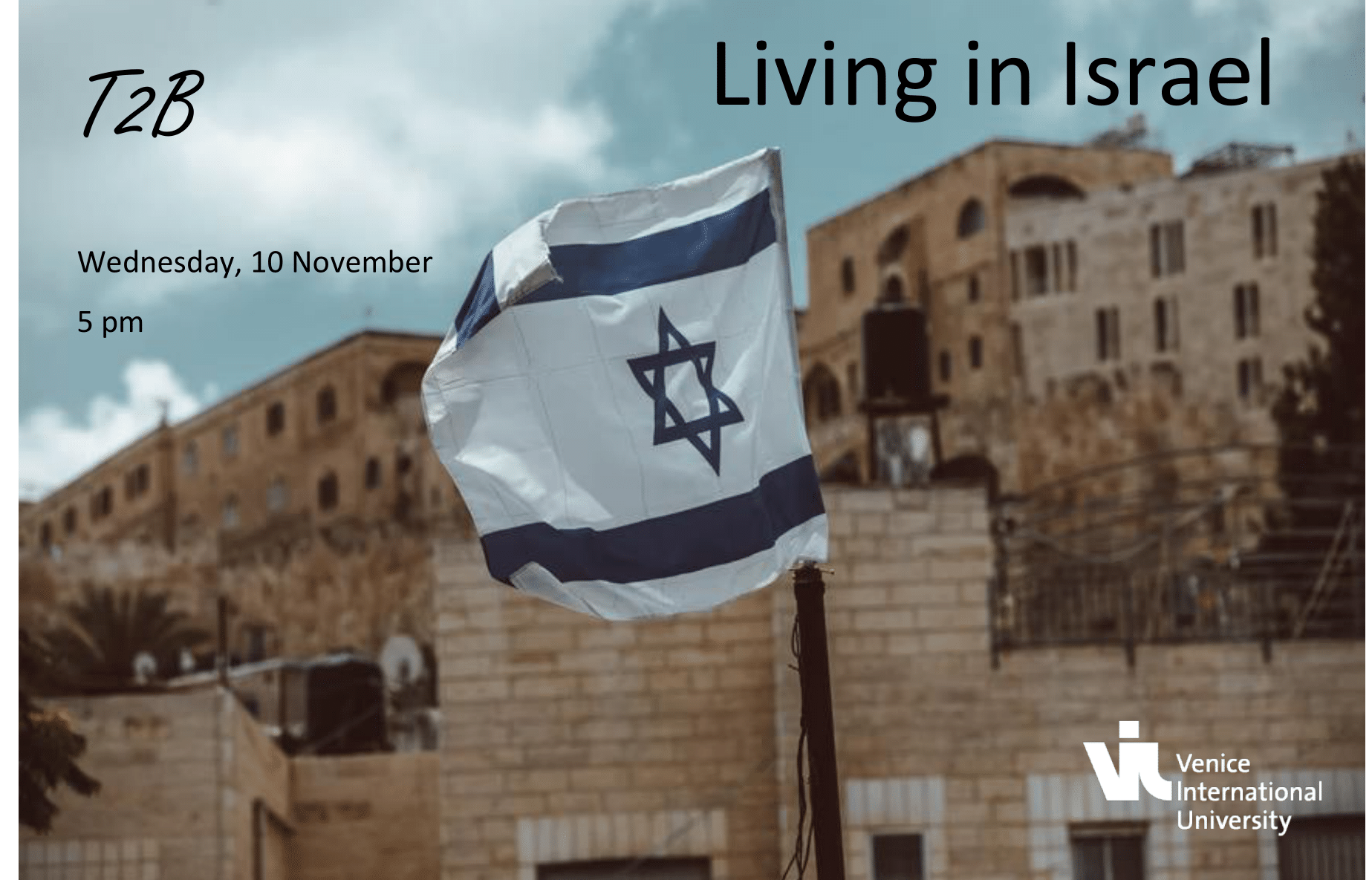 Some of our Israeli students will talk about their life in Israel. Come by and ask questions on various topics. What did you experience during your time in the military? How did you experience the attacks in May this year? How is the time of Nazi Germany reported at school and in the families?
This week we meet on Wednesday to leave room to the VIULecture on Monday 8.
Tea2B n°7 | HALLOWEEN PARTY
October 25, 2021 | 4.45 pm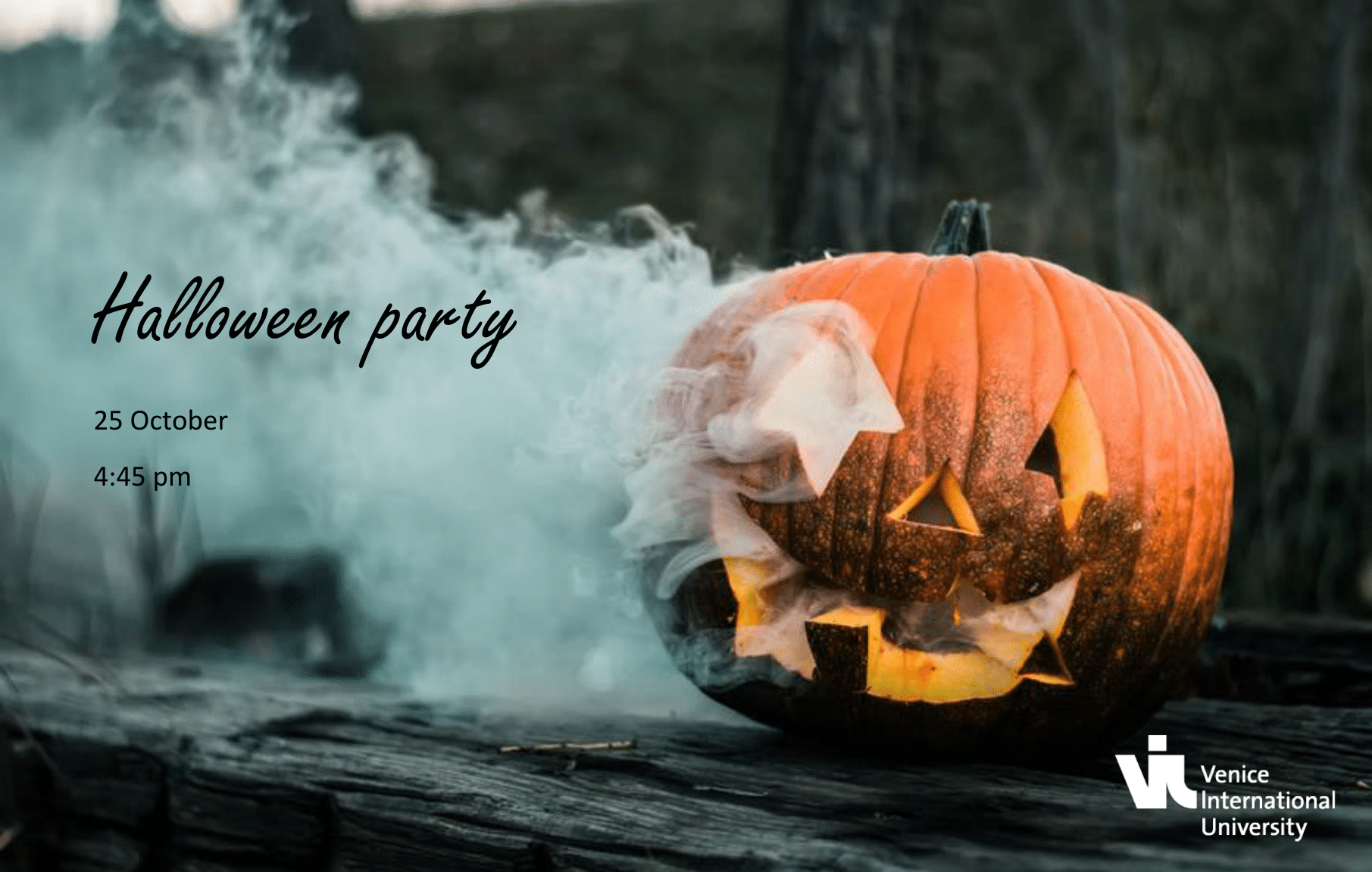 We invite professors and students to our Halloween party. Halloween is coming soon and we want to put you in the right mood. We will listen to scary stories from Venice, hear Halloween songs and learn about Halloween traditions from other countries. There will be tea and biscuits to keep you cosy.
We are looking forward to a spooky evening with you!
Tea2B n°6 | NATIONAL GAMES EVENING
October 18, 2021 | 4.45 pm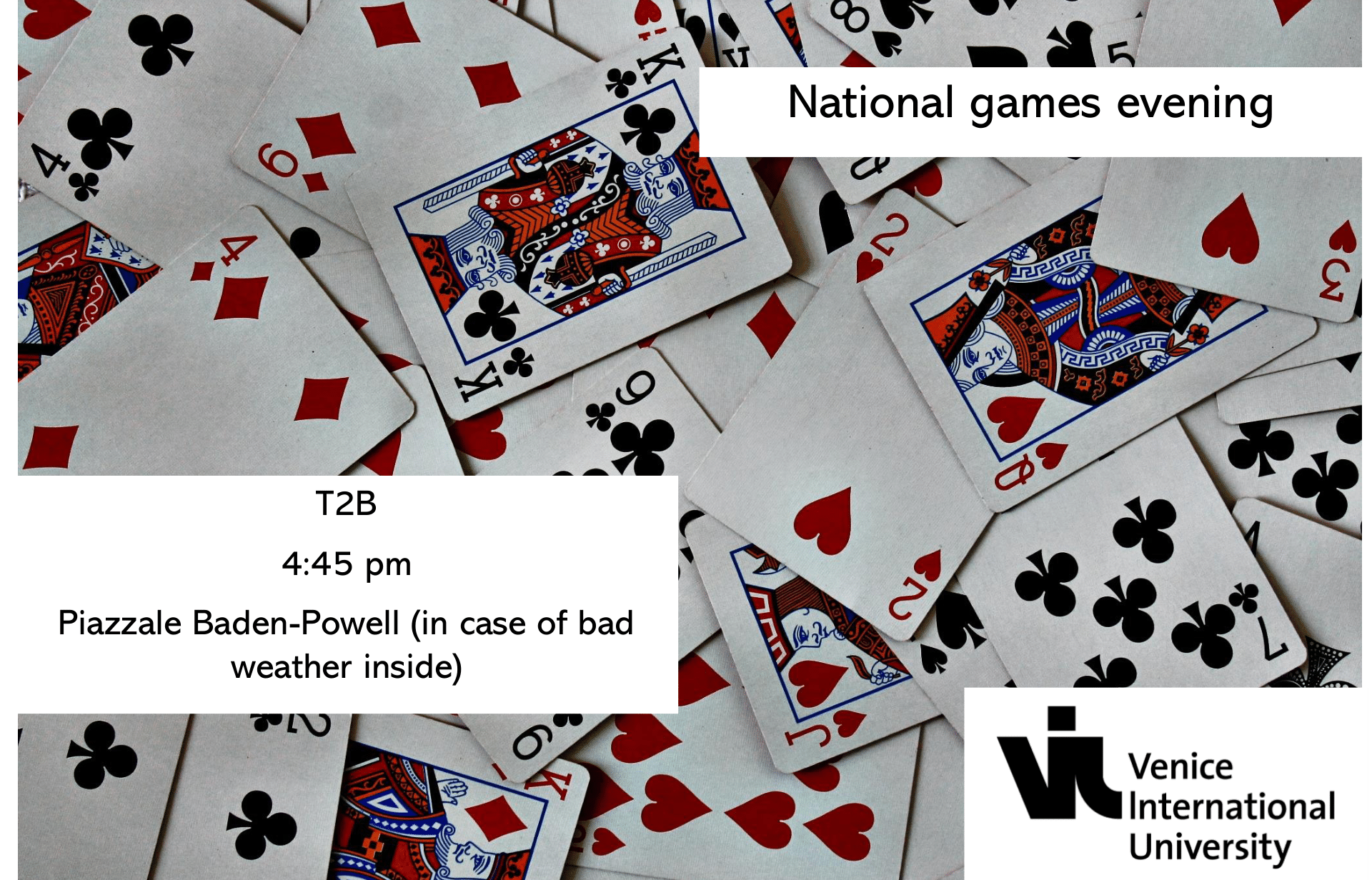 We invite professors and students to join our games evening. We play cards and board games from different nations.
One of the games is the simple but fascinating Russian card game "Durak" (Full). This game has been part of the Russian culture since the 1812 war against Napoleon. Now every post-soviet citizen can play it. It is one of the easiest way to break the ice with fellow passengers during the long train trip through boundless Russia.
Playing cards has been a tradition in Bavaria for hundreds of years - the Bavarians are said to have been passionate card players since the Middle Ages. Evidence of this can be found in the card-playing bans issued in Regensburg and Nuremberg in 1378 and 1380. They were too passionate. We teach you the game "Neunerln", which is easy to learn and is reminiscent of the game Uno.
We also provide some other games like risk and chess to play.
We will start at 4:45 pm, you can also join later. And we will play till 5:45 pm.
Tea2B n°5 | BARBECUE
October 11, 2021 | 6 pm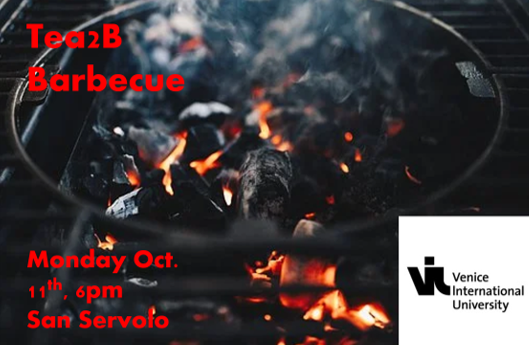 This week the REDs invite you to a barbecue for our Tea2B. You can arrive on San Servolo between 6 and 7pm, where we'll meet at the outdoor dining area! There will be music via speakers, and cover overhead in case of any light rainfall.
The barbecue is free to attend, although we kindly ask you to bring any meat, salads, snacks, drinks, etc. so that you can enjoy exactly what you want and how much you want. You can bring any type of meat or food that you wish, as well as any meat-free alternatives! Please also bear in mind that the cafe will not have the capacity to store any meat in a fridge or freezer, so you can bring snacks with you first thing in the morning, but it is strongly recommended to wait until the end of the day to purchase any meat or fresh food by going to the supermarket after class. You can catch the 17:30 or 18:30 vaporetto back to San Servolo, where we'll have two cooks on hand ready to prepare the food.
If you have any questions don't hesitate to get I touch with one of the RED scholars! We look forward to seeing you there!
P.S. In the How to get to VIU section of the VIU website you can find the vaporetto schedule, with the last one leaving the island at 22:50.
Tea2B n°4 | BREXIT
October 4, 2021 | 5 pm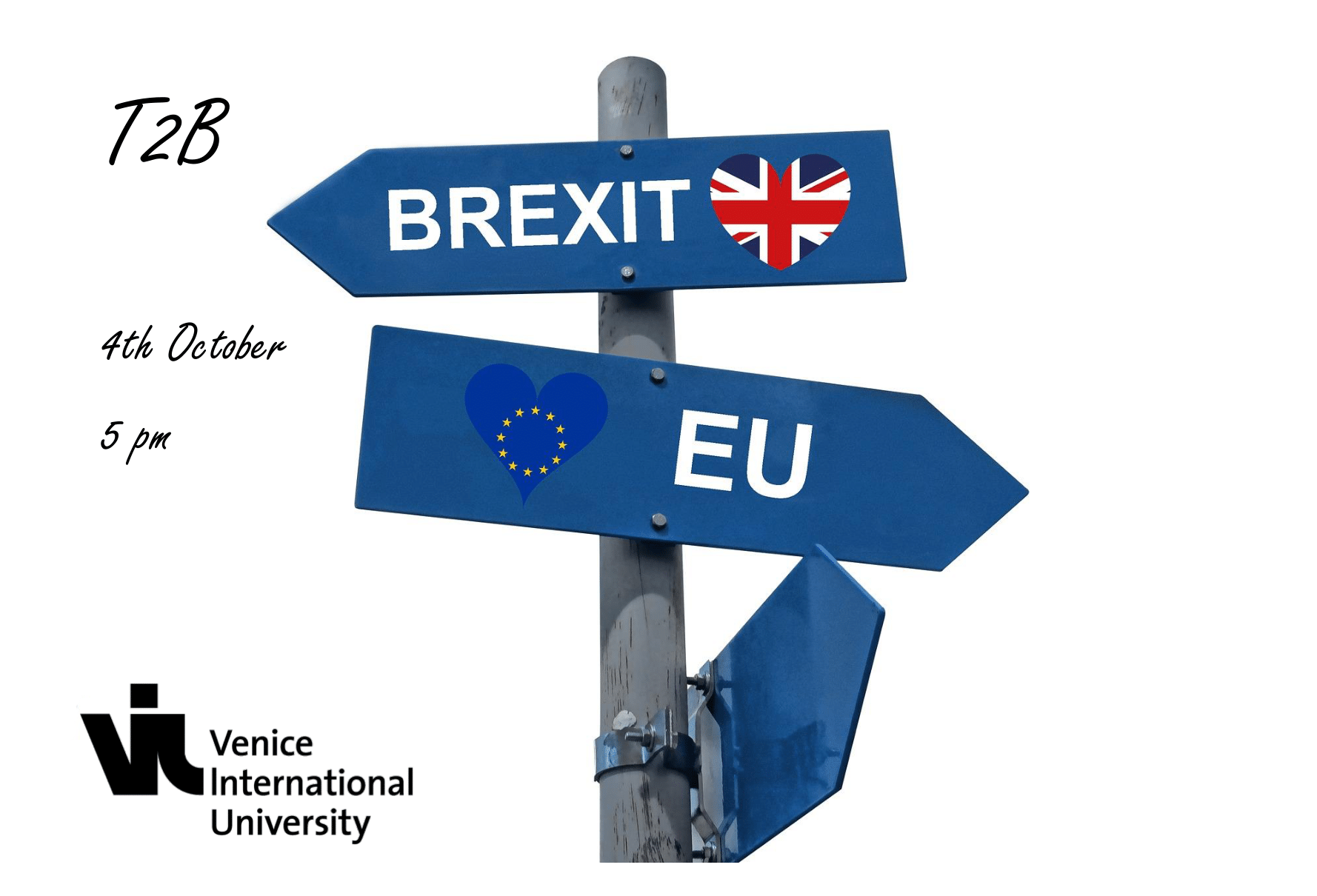 We invite professors and students to talk about the current Brexit situation. It was discussed and negotiated for a long time and in the end it became reality, the UK left the EU.
Many of the students are from the UK themselves and have already had personal experience of what it means to leave the EU. Many had or still have problems getting a visa for Italy, and the current problem of fuel shortages can also be partly attributed to the Brexit. Students from the UK are welcome to come to our T2B and share their experiences. Students from other countries can tell how the Brexit was reported in the media of their respective countries.
The barbecue is postponed because rain is forecast for Monday. It will be rescheduled as soon as possible.
Tea2B n°3 | ANIMAL RIGHTS CONTROVERSIES
September 27, 2021 | 5 pm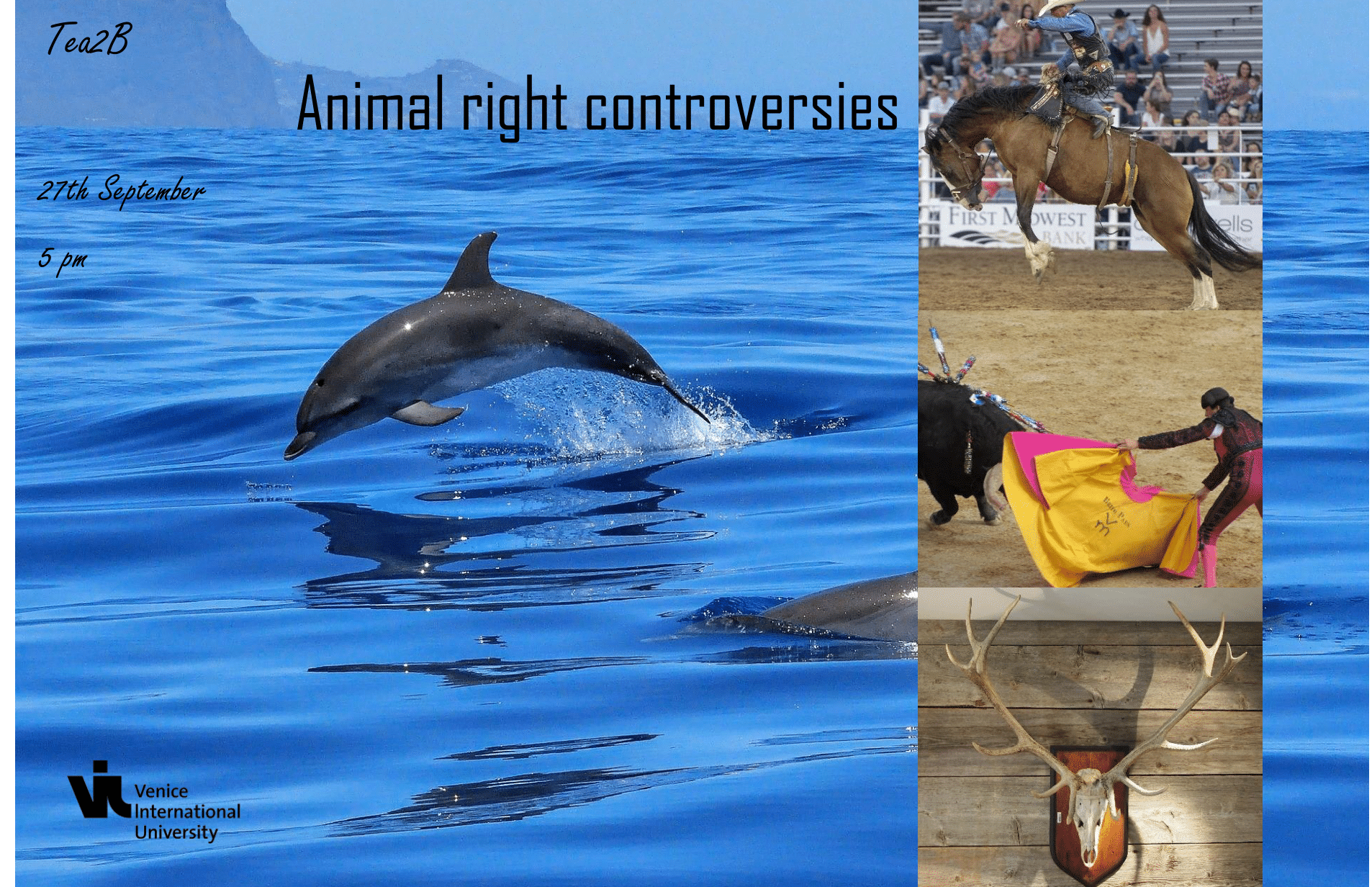 About a week ago, hundreds of dolphins were driven into a fjord on the Faroe Islands and killed. The hunting of the animals is not regulated by law on the islands, and every year local residents drive about 1,000 animals into the fjord and kill them in shallow water. The meat is shared among the islanders. Mostly pilot whales, rather rarely dolphins are among them, but this year more than 1,400 specimens of the dolphins were killed. This is not an isolated case; controversies about animal rights are common. Bullfighting in the south of France, rodeo riding in America or trophy hunting of animals.
We want to hear your opinions, have you ever experienced this yourself? Is tradition more important than the rights of an animal? What controversial practices are there in your country? Do you have ideas to solve these controversies?
Tea2B n°2 | SOCIAL AND PROTEST MOVEMENTS
September 20, 2021 | 5 pm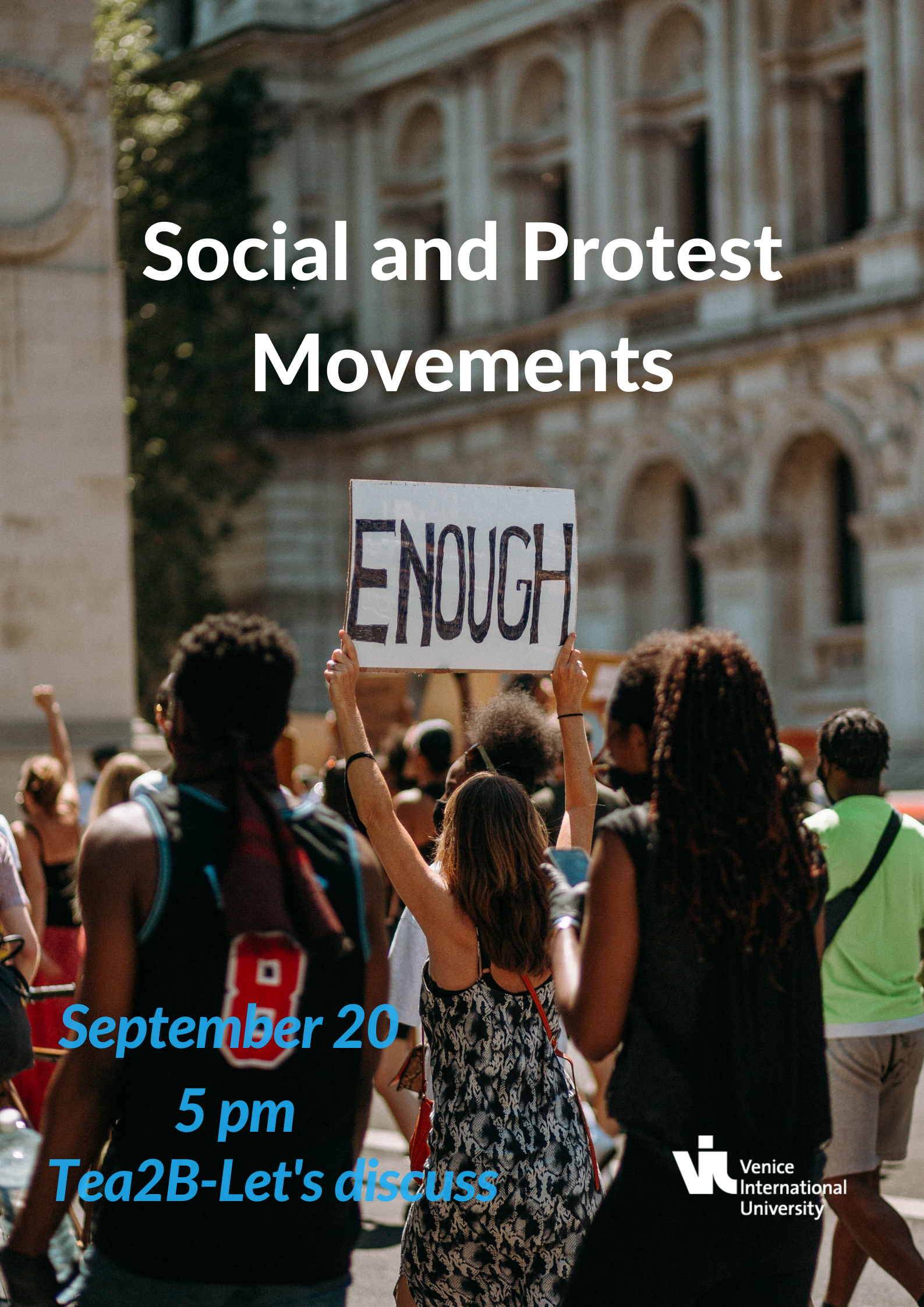 "Black lives Matter", "Fridays for Future", "MeToo", "Russia opposition protests" or the "Hong Kong protests" are just a few examples of social and protest movements. Many of these movements were and are a big topic in newspapers, TV shows and social media. With the help of these, they got a global phenomenon. We want to know your story about these movements. How did you experience it in your own country or are you an active part of one of these groups? Have you ever been active in a movement, participated in a demonstration or strike or signed a petition? We want to tell our own experience and share it with other students and get to know in this way how people from different countries experienced the social and protest movements at home.
Tea2B n°1 | STEREOTYPES AND HOW TO OVERCOME THEM
September 13, 2021 | 5.30 pm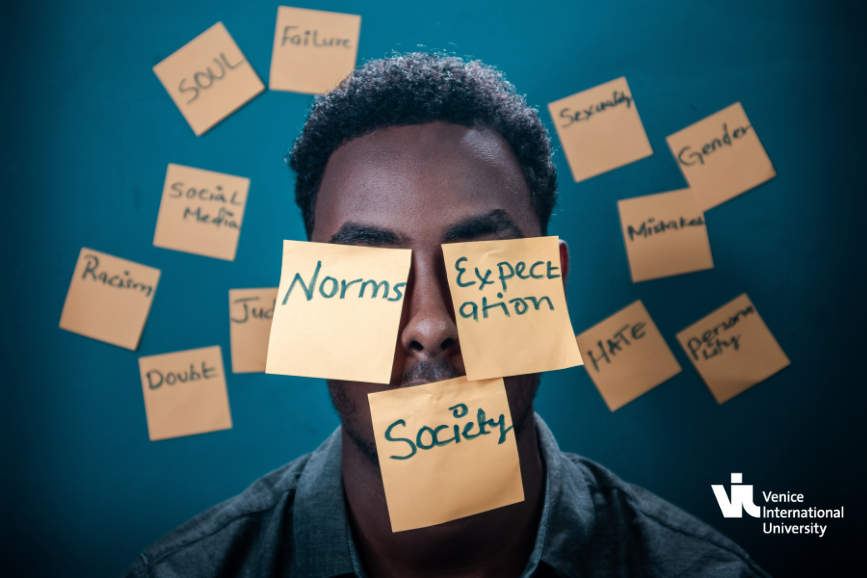 Students and professors are invited to an informal outdoor chat at the courtyard next to the bar of San Servolo, on Monday 13 September at 17:30. We shall discuss assumptions and cliché about people, in different parts of the world, from different perspectives, collecting ideas on how to overcome stereotypes.