Power of a Gesture: the story of the mythical hand sign that participated in creating the image of political stability for Angela Merkel
Ricarda Wolf
Development of a Signature Gesture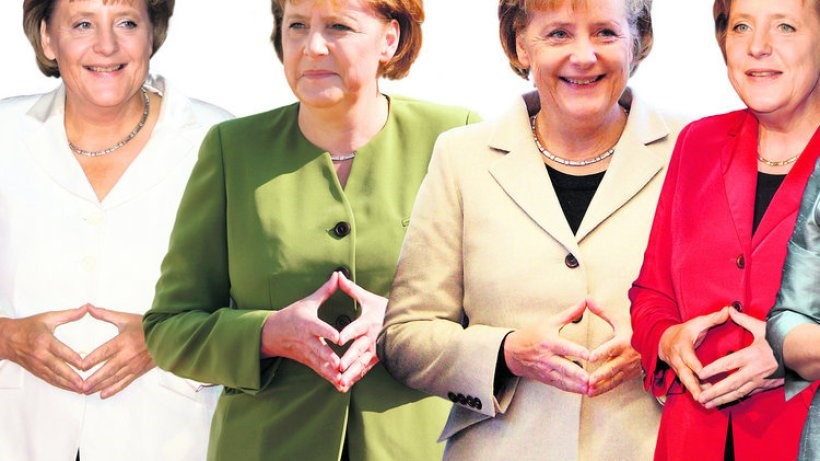 Place your hands in front of your stomach, connect the index finger and thumb with their respective counterpart, form the geometric shape of a rhombus. You are now performing the Merkel-Raute (German for Merkel-diamond), "probably one of the most recognizable hand gestures in the world".1
"The Triangle of Power", "Merkel-Diamond" or "Merkelizer" are the different terms for the gesture that has been named after the German chancellor Angela Merkel. The politician gave several explanations for the use of this particular hand gesture, which range from her love for symmetry, a solution to the question of what one should do with his hands when talking, to an orthopedic aid to straighten the back. However, what has become Merkel's signature gesture represents both a symbol for the German leader and a marketing tool for her party, the conservative Christian Democratic Union, CDU, as part of a personalization strategy in their election campaigns of 2013 and 2017.
An icon of power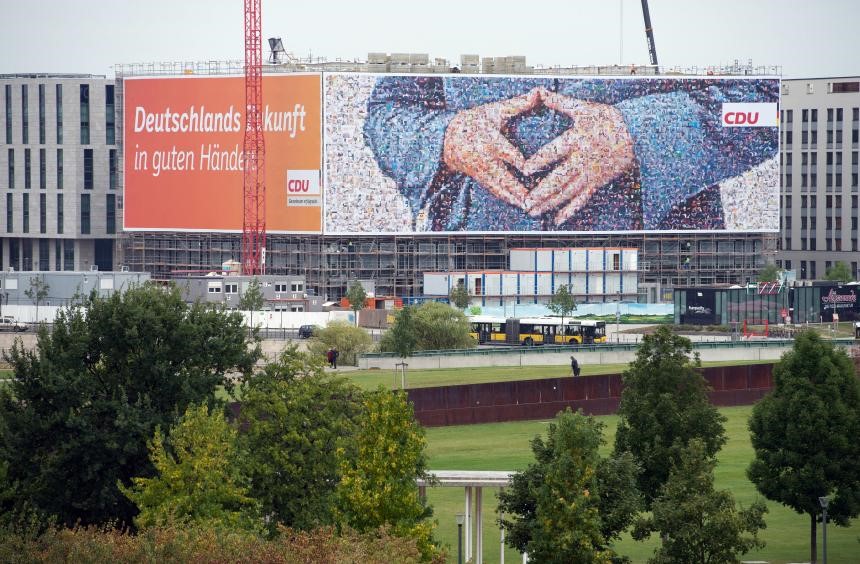 During the German national election campaign in 2013, the CDU created an election poster of approximately 2400 square meters, which made it the largest election poster that had and has ever been installed in Germany. The poster had been mounted on the facade of a building under construction facing the entrance of Berlin's main station. It was spotted by thousands of people passing by every day in between the train station and the district of the national government, and it pictured the Merkel-Raute composed by more than 2000 photographs of Merkel's supporters holding their hands in the same position. Although it was not showing Merkel's face, she was recognizable based only on that gesture: the Merkel-Diamond is able to represent or even replace her visually.
"Germany's future in good hands", it said on the left side of the picture. The election slogan clearly referred to Merkel's leadership, not to the rule of her party: this was the exact critic of the opposing political party, the Social Democratic Party of Germany. They accused the CDU of "personality cult" , putting emphasis on Merkel and her widespread popularity instead of focusing on the party's electoral manifesto. The journalist Philipp Wittrock from the magazine Spiegel comments: "With the mega billboard, Merkel's hands have become an icon of power. Why bother with political content?"
As the campaign was successful, the Merkel-Raute was also used in the election campaign of 2017. In a more understated way, it was placed on the front page of Merkel's website, where one icon stating "I love Raute" invited supporters to upload pictures of themselves with a short sentence explaining why they were voting for Merkel. Using the same strategy as in 2013's mega billboard, the campaign workers used the symbol of the hand gesture to unite people in their support for Merkel. On the one hand, they used a participatory method to engage people in their campaign, creating cohesion and a sense of belonging to a united supporter community. On the other hand, they used the symbol as a method of identification, one that can be easily reproduced by anybody. As a consequence, the Merkel-Raute not only stands for the politician but becomes a symbol for a political orientation that is bound to her person and can be performed by others.
Merging the Politician with her personality
Political scientist Eric Langenbacher argues that the electoral focus on Mer-kel's reliable and approved political leadership "encapsulates Merkel's appeal – no drama, trustworthiness, sound management, studiousness, and hard work." The Merkel-Diamond stands for her unagitated, calm, sometimes boring but very solid political leadership. This image of her and her leadership has nevertheless been staged and generated as well as narrated by herself and her party. "Her carefully cultivated image as a steady, reassuring, and incorruptible leader, coupled with her political acumen, ideological flexibility and, at times, ruthlessness […] are the keys to her profound success." However, the Merkel-Raute stands for more than her political and public power as it also touches on her steady personality that shapes and characterizes her leadership. In fact, the gesture was first used by comedians to taunt the German chancellor for her unimaginativeness and perennial presentation. Quickly Merkel reclaimed the symbol, not without a certain sense of selfirony. Her choice of clothing or vacation destinations also tell us about her identity: while the colors of her outfits change, the style of her pant suit obstinately stays the same. On vacation, she prefers to either hike in the Alps, relax in Ischia, or travel to the Baltic Sea. Is it boring? No, it should be considered as highly consistent, enduring and authentic. Her private identity is in line with the way she performs power. Therefore, the personalization of her power lies within merging her personality with her role of the politician and her steady, upright and calm way of governing. This combination of personality and political function is symbolized in the Merkel-Raute.
Bibliography
Connolly, Kate. 'Merkel diamond' takes centre stage in German election campaign. The Guardian, 3 September 2013. Available from: https://www.theguardian.com/world/german-elections-blog-2013/2013/sep/ 03/angela-merkel-diamond-german-election-campaign [Accessed 26 December 2017].
Dewitz, Anne: Die geheimen Zeichen der Kanzlerin. Hamburger Abendblatt, 31 October 2009. Available from: https://www.abendblatt.de/vermischtes/article107582070/Die-geheimen-Zeichen-der-Kanzlerin.html [Accessed 26 December 2017].
Knight, Ben. Angela Merkel: Germany's mother. The Guardian, 20 Septem-ber 2013. Available from: https://www.theguardian.com/commentisfree/2013/ sep/20/angela-merkel-germany-mother [Accessed 26 December 2017].
Langenbacher, Eric. Introduction. Merkel's Nachsommermärchen?. German Politics and Society, 32 (Issue 111), 2014, pp. 1-18.
Wittrock, Philipp. Angela Merkel Gets Super-Sized. Der Spiegel, 3 Septem-ber 2013. Available from: http://www.spiegel.de/international/germany/giant-merkel-campaign-poster-raises-eyebrows-in-berlin-a-920196.html [Accessed 26 December 2017].
Table of Figures
Fig. 1: Compilation of the Merkel-rhombus, source: HA / HA/dpa/rtr/AP. Available from: https://www.abendblatt.de/vermischtes/article107582070/Die-geheimen-Zeichen-der-Kanzlerin.html
Fig. 2: Election poster in front of Berlin main station, source: DPA. Available from: https://www.thelocal.de/20130904/51749.
---
1 Connolly, 2013.
2 Dewitz, 2009.
3 Dewitz, 2009; Connolly, 2013
4 Wittrock, 2013.
5 Ibid.
6 In German: "Deutschlands Zukunft in guten Händen."
7 Knight, 2013.
8 Wittrock, 2013.