Gender Issues in an Ageing Society
June 4-9, 2018
The VIU Summer Institute on Ageing offers a "state-of-the-art" program which will provide the students with a thorough understanding of the ageing process, ranging from recent advances of the medical and epidemiological literature, to an extensive treatment of the economic dimension (pensions and long term care) and of the sociological dimensions (intergenerational transfers, role of family networks). Special attention will be given to the use of large micro-data sets, such as SHARE (Survey of Health Ageing and Retirement in Europe) and sister surveys.
This edition of the Summer Institute will have a focus on Ageing and Gender. The last three days will be organized in collaboration with the COST action IS1409, focusing on "Gender implications of extending working lives", with common sessions on June 7-8 and an optional COST session on June 9.
Introduction
The VIU Summer Institute on Ageing will:
- provide students and trainees with a thorough understanding of the ageing process, offering notions of the medical and epidemiological recent literature to the socio-economic advances in this research area
- enhance the multidisciplinary approach for researchers who work on ageing
- provide "hands-on" experience on the micro data-sets
- increase the mobility and the inter-connectivity of PhD students, researchers, teaching staff and policy makers, hence favouring the creation of research networks.
Faculty
Scientific Coordinator: Agar Brugiavini, Ca' Foscari University of Venice
Other professors and university affiliation:
Vincenzo Atella, Università degli Studi di Roma Tor Vergata
Mauricio Avendano, King's College London, UK
Axel Börsch-Supan, Max Planck Institute for Social Law and Social Policy, D
Fiona Carmichael, University of Birmingham, UK
Amitabh Chandra, Harvard Kennedy School, USA
Luigi Ferrucci, National Institutes on Aging (NIA), USA
Doriano Lamba, Istituo di Cristallografia, DSCTM-CNR Trieste, IT
Nicky Le Feuvre, Université de Lausanne, CH
Stefania Maggi, Institute of Neuroscience, National Research Council of Italy
Jürgen Maurer, University of Lausanne, CH
Jean-Pierre Michel, University of Geneva, CH
Giacomo Pasini, Ca' Foscari University of Venice, IT
Jonathan Skinner, Dartmouth College, USA
Morten Wahrendorf, Heinrich-Heine-Universität Düsseldorf, D
Guglielmo Weber, Università di Padova, IT
Tutors:
Cristina Orso, Ca' Foscari University of Venice, IT
Monika Ozkovska, Cenea - Center for Economic Analysis, PL
Learning outcomes
Participants will gain special insight into the recent advances of the ageing process from a theoretical and practical point of view and will be able to perform impact evaluation (e.g. health care costs); participants will learn how to use the data in this area of research participants will be offered the opportunity to share their ideas in a poster-sessions and during social events participants will develop transversal competences based on a multidisciplinary approach. Specific training sessions, such as "revolving conversations", will take place. policy makers and people involved in public policy and public services will be able to learn how to connect issues between the health dimension of ageing and the socio-economic dimension of ageing.
Who can apply
The Summer Institute is addressed mainly to graduate and PhD students in social sciences (economics, sociology, demography, political science), to MDs particularly geriatrics, students in epidemiology, public health. Researchers involved in the COST network are particularly welcome. Moreover, policy makers and high-level officials in public and private institutions will be admitted if their background is adequate.
Program structure

The Summer Institute will consist of three blocks of activities:
- Morning lectures from leading researchers addressing the most recent advances in the area. Presentations in the fields of biomedicine, geriatrics, genetics, epidemiology, patient care, psychiatry, as well as economics of ageing, pension economics and finance, health economics, public health, demography and sociology.
- Hands-on sessions in the afternoon. Provide students a thorough presentation of the survey data on ageing available to the scientific community, focusing on datasets such as SHARE.
- Poster sessions and revolving conversations. Students are invited to prepare a poster about their ongoing research: a paper they are working on or other preliminary work. Poster sessions will be held typically around lunch-time: students will have the opportunity to discuss their own research with the senior scholars.
- Interactive sessions, such as "tutoring sessions", aimed at giving participants the opportunity to discuss their own research ideas with senior speakers in individual or small group meetings.
Number of ECTS credits allocated: 2
A Certificate of attendance will be issued at the end of the course.
Training period options
Only summer institute on Ageing: June 4-8
Summer institute on Ageing + full COST training school: June 4-9
Only COST training school: June 7-9 (for this option, application via COST TS website)
Applications procedure and costs
Application via VIU website, now available
Rolling admissions until April 29, 2018 (deadline extended)
Application fee: 800€ incl. VAT.
The fees will cover tuition, course materials, accommodation in shared rooms at the VIU campus, lunches in the VIU cafeteria and social events.
Scholarships will be available to cover part of the fee.
Successful applicants who apply before April 15, 2018 (extended) will be able to book accommodation on campus.
Applicants who apply after that date will organize their own accommodation.
Co-organizers and partners
Venice International University
EICA – European Interdisciplinary Council on Ageing
Consiglio Nazionale delle Ricerche
Università Ca' Foscari Venezia
Université de Lausanne
Università degli Studi di Padova
Università di Roma Tor Vergata
COST action IS1409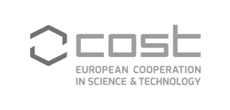 Contact and info:
Hélène Duci
Tel: (+39) 041 2719511
Email: ageing@univiu.org